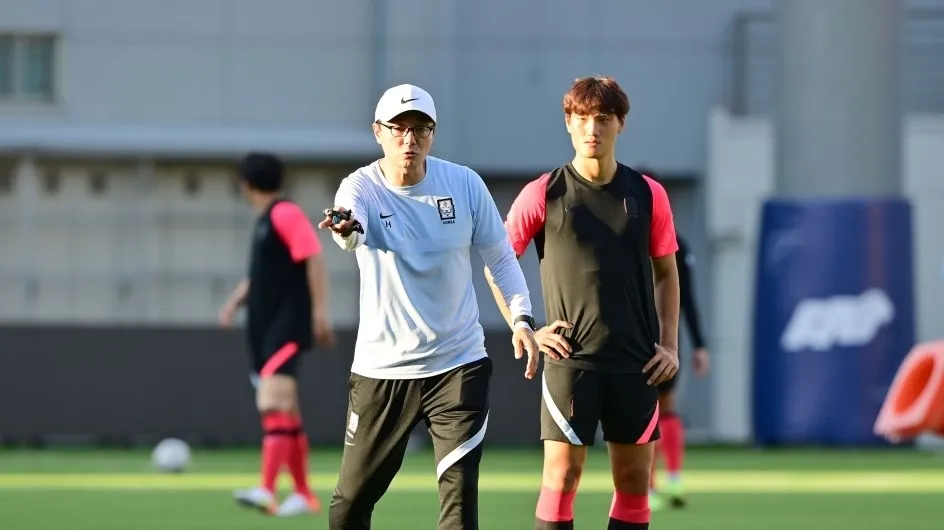 The Hangzhou Asian Games team and the Under-22 players will train together.
The Korean Football Association (KFA) announced on Thursday that some players from the Asian Games squad and the U22 national team, led by Hwang Sun-hong, will hold a three-day training camp at the Paju National Football Center (NFC) from July 7 to 9.
Four overseas players – Lee Kang-in (Paris Saint-Germain), Jung Woo-young (Stuttgart), Hong Hyun-seok (Gent) and Park Kyu-hyun (Dynamo Dresden) – will not join the squad, as the call-up is independent of the A-match period set by the Federation Internationale de Football Association (FIFA).
Among the K League players, seven players from Jeonbuk Hyundai, Incheon United, and Pohang Steelers (Kim Jung-hoon, Ko Young-joon, Min Sung-joon, Park Jae-yong, Park Jin-seop, Baek Seung-ho, and Song Min-kyu), who are competing in the semifinals of the Korea Football Association (FA) Cup on May 9, are excluded.
Those spots were filled by U22 players who are preparing for the Asian Football Confederation (AFC) U-23 Asian Cup qualifiers at the Changwon Football Center in September.
South Korea's Bae Joon-ho dribbles during the third place match between South Korea and Israel at the FIFA U-20 World Cup Argentina 2023 at La Plata Stadium in Argentina on June 11, 2018 (local time).
Four players who played at the last U-20 World Cup – Kim Jun-hong (Gimcheon), Bae Seo-joon, Bae Jun-ho (Sangsang Daejeon) and Choi Seok-hyun (Dankook University) – were named to the call-up list. For all four, it is the first call-up for Hwang Sun-hong.
In addition, two more players (Jeon Byung-kwan and Heo Yul), who have been performing well in the K League, will join the squad.
Following the announcement of the roster, the Asian Games squad held one training camp from March 25 to 27.
Korea has been drawn in Group E with Bahrain, Thailand and Kuwait at the Hangzhou Asian Games. They will also face Qatar, 스포츠토토 Kyrgyzstan and Myanmar in the AFC U-23 Asian Cup qualifiers.
◇ Training roster for the August Asian Games (16 players)
△GK=Jun-Hong Kim (Gimcheon Sangmu), Lee Kwang-Yeon (Gangwon FC)
△DF=Seol Young-woo (Ulsan), Bae Seo-joon (Daejeon), Lee Jae-ik (Seoul Eland), Lee Han-beom (Seoul), Choi Seok-hyun (Dankook University), Choi Jun (Busan), Hwang Jae-won (Daegu)
MF=Bae Jun-ho, Jeon Byung-kwan (Daejeon), Uhm Won-sang (Ulsan), Jung Ho-yeon (Gwangju), Cho Young-wook (Gimcheon)
FW=Ahn Jae-joon(Bucheon), Heo Yul(Gwangju)